Dealer Compendium Launched for Dealer Affiliates
Date posted
August 28, 2020
T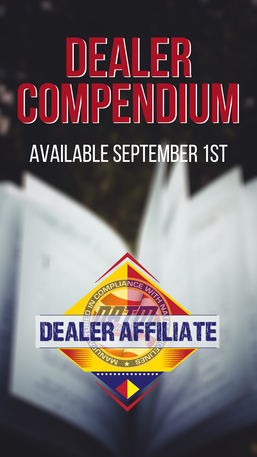 he National Association of Trailer Manufacturers (NATM), known as the resource for safety and compliance for the light- and medium-duty trailer industry, published its first edition of the NATM Light- and Medium-Duty Trailer Dealer Resource Compendium.
​
Known as the Dealer Compendium, this document will launch Sept. 1, and is free to all NATM Dealer Affiliates. The Compendium is full of educational content and materials that will help trailer dealers access essential information quickly and easily in one place. The document includes state laws, helpful trailer safety information, as well as resources NATM Dealer Affiliates can pass along to their customers.
Modeled after the NATM Guidelines for trailer manufacturers, this resource guide is over 300 pages and contains information on:
State Towing Laws
State Brake Laws
State Safety Chain Laws
State License Plate Laws
Commercial Driver's Licenses
State Dealer Registration/Licensure Laws
Towing Tandem Trailers Information
Tire Recordkeeping
Federal Excise Tax
Gross Vehicle Weight Ratings
Early Warning Reporting and Safety Recalls
Safe Trailering Resources
Dealer Checklists
Selling NATM Compliance
Social Media Marketing Kit
Trailer 101 Articles
Trailer Definitions
COVID-19 Workplace Safety Guidance
The information featured in the Compendium is gathered from resources such as the U.S. Department of Transportation, the Society of Automotive Engineers, Inc., the American Association of Motor Vehicle Administrators, the Recreational Vehicle Industry Association, and the National Highway Traffic Safety Administration amongst others. The Compendium will be updated annually by NATM Staff and Committees that stay abreast of changing regulations and vet the addition of the document's contents.
The National Association of Trailer Manufacturers (NATM) has been committed to trailer safety for more than 30 years. While NATM has long worked with trailer manufacturers, industry suppliers and service providers, trailer safety can only be improved through dealer interaction and consumer education. The NATM Dealer Affiliate program is an opportunity to unify the trailer industry to improve trailer safety. In addition to granting access to NATM's publications such as Tracks magazine, the NATM Insider, dealers receive hard copies of safety resources to distribute to customers.
​
For more information about how the National Association of Trailer Manufacturers can assist your dealership, visit
www.NATM.com, email NATM Assistant Director Meghan Ryan at Meghan.Ryan@natm.com or call (785) 272-4433.