From Likes to Leads Webinar: Harnessing Social Media for Trailer Industry Success
Date posted
August 29, 2023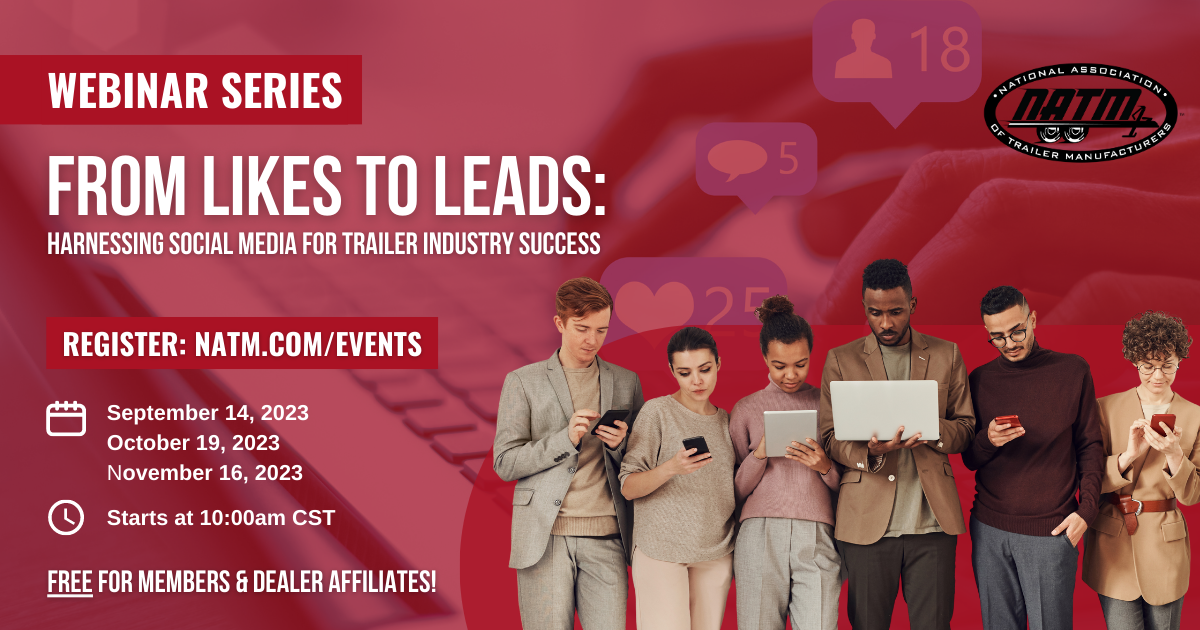 The National Association of Trailer Manufacturers (NATM) is excited to introduce a three-part webinar series designed exclusively for trailer manufacturers, dealers, suppliers, and service providers. "From Likes to Leads: Harnessing Social Media for Trailer Industry Success" is a dynamic series aimed at empowering businesses within the trailer industry to revolutionize their online presence and achieve remarkable growth through strategic social media marketing.
Webinar 1: Establishing Your Digital Foundation
Date: Sept. 14, 2023
Time: 10:00 am CST
In this first installment, the stage will be set for your social media success. Join an industry panel of trailblazing marketing directors, social media creators, and NATM members as they share their invaluable insights on establishing a solid digital foundation. This webinar will delve into selecting the right platforms, identifying key branding elements, and harnessing content creation software to captivate your target audience.
Discover the social media secrets that will amplify your trailer business and drive unrivaled engagement. Don't miss out on this opportunity to lay the groundwork for your social media journey.
---
Webinar 2: Crafting Compelling Content for Social Media
Date: Oct. 19, 2023
Time: 10:00am CST
In the second webinar of the series, you will dive deep into the art of creating captivating content that converts. The esteemed panel will share their expertise on developing a content strategy that resonates with your audience and aligns with your trailer business objectives. Explore diverse content formats, storytelling techniques, and visual elements that will elevate your brand above the competition.
Join in to discover how to ignite conversations, spark curiosity, and craft a remarkable online presence that leaves a lasting impact on your audience.
---
Webinar 3: Nurturing a Thriving Online Community
Date: Nov. 16, 2023
Time: 10:00am CST
In this final webinar, be prepared to uncover the social media do's and don'ts for trailer industry businesses. Panelists will divulge their top strategies for cultivating a thriving online community. Learn how to identify and nurture brand ambassadors who will champion your trailer business. Uncover the art of fostering authentic customer relationships that lead to long-term loyalty and success.
Don't miss this opportunity to learn from industry experts who have already harnessed the power of social media to transform their trailer businesses into global leaders.
---
These webinars are part of NATM's educational programming and are available to all NATM members. The Association is committed to equipping members with the latest tools and knowledge to thrive in today's digital landscape. Prepare to unlock the untapped potential of social media and propel your trailer business to unprecedented heights!
Join in for "From Likes to Leads: Harnessing Social Media for Trailer Industry Success," and take your business on a journey of exponential growth. For questions, contact NATMHQ@natm.com.