Looking Ahead: 2021 Membership Renewals & Benefits Recap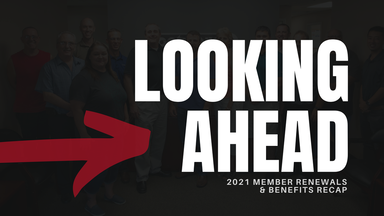 Membership renewal forms will be mailed and emailed to NATM members this November. In order to avoid a membership lapse, 2021 dues are to be paid by January 31, 2021.
For Trade Show Exhibitors, it is important to note that NATM DUES MUST BE PAID BY DECEMBER 31st, 2020 to maintain the member rate for booths at the February 2021 Convention & Trade Show in Nashville, TN.
Membership dues will again go unchanged in 2021. Rates are $795 for Associate (Supplier) members, $135 for Associate Branch members, $925 for Regular and International Regular (Trailer Manufacturer) members and $300 for Regular Branch members. If you joined between February and October of 2020, your 2021 dues are prorated accordingly.
NATM greatly values your membership and 2021 promises to be another fantastic year to be a NATM member. You can pay by check, over the phone, or online. The NATM website has a "Members Compass" section where companies are able to sign in and pay dues at any time.
2020 Added Benefits
This year, NATM has maintained the many benefits members know and utilize, while also adding the following:
Association Health Plan (AHP) for most NATM member companies.
Continuing the Association's 2019-2021 strategic plan focusing on industry growth, increasing brand awareness, and continuously improving the NATM Compliance Verification Program.
Hosting additional virtual educational resources online such as webinars and presentations.
Growing the reach of Trailer Safety Week, including the introduction of strategic partnerships and access to additional resources.
Devoting resources to marketing the NATM Compliance Verification Program and benefits of the Association to the industry as well as to end-users to grow value of the NATM Compliance Decal.
Establishing the NATM Association Retirement Plan for member companies to offer their employees.
COVID-19: NATM is Here for You
For many NATM members, this has been a difficult and uncertain time. NATM knows that members are getting creative about how to approach the myriad of new challenges that exist. NATM is working to help members navigate this time by providing resources and information promptly. In response to COVID-19, NATM has:
Created the NATM Guidance on Workplace Safety for COVID-19, which includes information from the CDC and OSHA. The document includes examples from similar industries to help members identify implementable safety protocols for the trailer manufacturing industry.
Created a COVID-19 Resource Center on NATM.com, which is updated regularly so that members have access to the latest information and guidance when they need it most.
Sent a letter to Vice President Pence outlining the experience of NATM members during this outbreak, including the efforts they are undertaking to protect their workforce. It further discusses the uncertainty facing the industry and the need for relief.
Partnered with Marsh and McLennan Agency (MMA) and brought members and dealer affiliates a weekly COVID-19 webinar series intended to help the trailer manufacturing industry move forward.
Surveyed members on the impact of COVID-19 to be used in advocacy efforts, as data points for participants, and for the Association to evaluate its benefits moving forward.
For questions regarding your company's membership or the renewal process, please contact NATM Assistant Director Meghan Ryan at Meghan.Ryan@natm.com or (785) 272-4433.