NATM Conducts Remote Compliance Consultations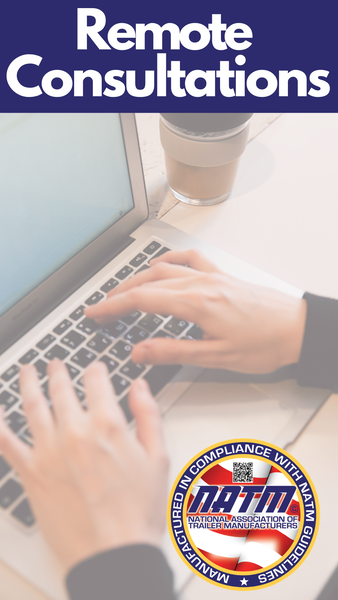 As COVID-19 continues to spread, the National Association of Trailer Manufacturers (NATM) has been monitoring the situation closely. The cornerstone of NATM's mission is safety, and the Association takes the safety of its employees, members, and the many citizens impacted by its work very seriously. On March 13, 2020, NATM suspended travel for its employees, but is now allowing limited travel to member facilities within driving distance. In monitoring the recommendations of public health officials, the Centers for Disease Control, and OSHA amongst many resources, NATM feels it is prudent at this time to continue to implement precautions to protect its team and those who come in contact with them throughout the course of their daily lives.
At this time, the impact of these precautions is mostly on the NATM Compliance Verification Program's onsite consultations. NATM and its compliance consultants have transitioned to either entirely remote or a hybrid remote-onsite consultations with members whose compliance certifications are set to expire in the near future and with new members.
NATM was well-positioned for this change with the recent transition to electronic checklists and a history of completing international member consultations mostly through a remote process. However, there are still many hurdles for both consultants and members to overcome in order to complete the thorough consultation NATM members have come to expect. The two main challenges being encountered and the ways to mitigate those are:
Contacting Members – Most, if not all, members have seen their work environment and processes drastically changed and their workload increase as a result. Many members have reported an increasing volume of email communications as well as a workforce shortage and order backlogs which often results in being away from email or phones for extended periods of time. Together, these challenges have created significant delays in responsiveness as consultations are scheduled via email. NATM understands the mounting pressures members are facing and are working to find ways to increase flexibility as members cope and adapt. For example, if a member's business has been shut down due to COVID-19, NATM would not expect a consultation immediately. As a company's expiration date draws near, members are encouraged to keep an eye out and respond promptly to consultant scheduling attempted to prevent any gaps in compliance or issues filling decal orders.
Providing Evidence for Consultation – Under normal conditions, NATM consultants typically view all checklist items in-person during onsite consultations. These items range from tire recordkeeping to the lens coding on tail lamps. The work for the most part is left to the NATM Consultant through the onsite inspection process. The challenge then is ensuring a thorough inspection of these items while completing the consultation remotely, which means requesting more effort and support from members through the process.
There are currently two options to address the challenge of providing evidence to meet the NATM Compliance Verification Program requirements: hybrid remote-onsite consultations and entirely remote consultations.
Hybrid Remote-Onsite Consultations
The ideal consultation procedure at this time is the utilization of the hybrid remote-onsite method. In this method, a consultant will travel to your facility to view the physical trailers in an outdoor location. The member is invited to be present, but not required, and must follow the same guidelines as the consultant (face mask, distancing, etc. as outlined in NATM communications during the scheduling process). Likewise, the consultant will follow any protocol as required by the member company, such as temperature screenings and medical questionnaires.
Onsite Inspection – The in-person inspection will cover all physical aspects of the trailer, including, but not limited to, lamps, reflectors, capacities, etc. These are the items most challenging to verify remotely. Verifying these critical checklist items in-person allows a more thorough and quality consultation for members.
Another deviation from previous methods is that of scheduling. Consultants will schedule for a.m. or p.m., during business hours, rather than a specific time. This flexibility will allow consultants to move from site to site without delay while also giving each location the time needed for a thorough and complete inspection. This structure also allows consultants to complete more consultations in a shorter amount of time, decreasing both travel expenses (hotels, meals, fuel, etc.) and risk of exposure to COVID-19. Please note that not all members will qualify for this consultation method due to travel restrictions. At the time of this publication, NATM Consultants are not able to travel internationally, to a state with an active stay at home order, or any state identified by the Kansas Department of Health as "high risk".
Remote Inspection – To finish the consultation, all other items not completed during the onsite inspection will be covered during a remote second meeting. This includes questions directly relating to the consultation, informational items, and a review of any issues found during the onsite inspection. These items have historically been completed in an indoor office, in a face-to-face environment that would violate today's CDC guidelines relating to COVID-19. Some of these questions may still require the member to provide documents and/or pictures such as proof of tire recordkeeping, Manufacturer Certificate of Origin (MCO) verification, etc. NATM Consultants will set up an online meeting through several different providers such as Zoom or GoToMeeting.
Entirely Remote Inspection​
Again, NATM Consultants can set up an online meeting through several different providers such as Zoom or GoToMeeting. During this meeting, the member will have two ways to transmit the required evidence to the consultant. The member may use their smartphone or tablet to show the consultant all items via live video. The member may also send pictures documenting each item though this may require a large number of pictures to be transferred. It is possible to conduct the consultation using a mixture of these methods. A common occurrence is for a member to send pictures of documents and recordkeeping, but perform the actual trailer inspection via live video.
It is important to note, at this time, all members will be allowed to select a remote consultation if an onsite inspection violates company safety standards in relation to COVID-19. NATM will continue to monitor the situation and communicate with members as the situation changes. You can expect to receive the same benefits and services you have come to know and rely on with adaptations intended to protect everyone.
If you have any questions about your consultation, your expiration date, or questions about the NATM Compliance Verification Program, contact Technical Director Terry Jones by texting or calling (620) 381-8040 or by emailing him at Terry.Jones@natm.com.