NATM Launches Online Resource Library
Date posted
January 29, 2021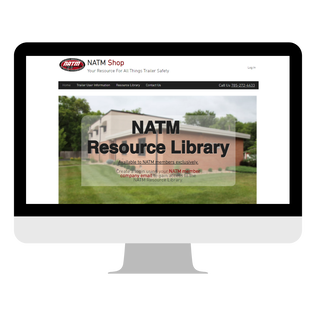 NATM is pleased to announce the launch of the NATM Resource Library! In line with the Association's mission and the 2019-2022 Strategic Plan, NATM is excited to provide members with relevant educational information that's easily accessible. This long-awaited member benefit will streamline how NATM members receive the latest information regarding new technology developments, best practices for manufacturers, HR, and administrative needs as well as a host of other topics. The NATM Resource Library provides members with a sense of community via live chats, member profiles, and comment threads on the articles.
The NATM Resource Library also provides the Association another opportunity to lead the industry in safety. NATM is proud to offer a library of resources specifically dedicated to trailer users—a highly requested resource. This area dedicated to trailer users is just another way the Association is working towards educating this audience on the importance of compliant trailers, trailer safety, and the NATM Compliance Verification Program.
Members can access the NATM Resource Library by visiting www.NATMShop.com.
​Once on the site, navigate to the top right-hand corner where the Log In bar is located. Click on this bar to create a NATM Resource Library username and password. Make sure to either use a NATM member company email or indicate the member company name while logging in.
NATM staff will approve the log-in request so the NATM Resource Library can be accessed. Once approved, log-in and navigate to the top of the site page where it says "Resource Library" and click.
Once on the NATM Resource Library landing page, members can either utilize the search bar or browse through the five categories: Technical, Compliance Verification Program, Membership/ Marketing, Business Administration/HR, or Consumer Information.
This exclusive benefit will be updated regularly with new articles and topics ensuring NATM members have access to the latest information regarding the trailer industry.
Questions? Reach out via the chat box on NATMShop.com or by email at library@natm.com.