NHTSA Cautions Buyers, Trailers Must Meet Federal Regulations

Earlier this year, the National Highway Traffic Safety Administration (NHTSA) issued an important warning regarding compliant trailers to consumers, importers, and trailer manufacturers. According to the official NHTSA statement, "… noncompliant trailers that may pose a safety risk are increasingly marketed and sold to small businesses throughout the United States … Trailers that do not comply with Federal regulations may not be safe and are not allowed to enter the United States."
The National Association of Trailer Manufacturers (NATM) has long recognized the importance of building safe, compliant trailers as demonstrated by the Compliance Verification Program (CVP). NATM has compiled the applicable federal regulations and industry best practices, and every two years, NATM Compliance Consultants visit member facilities to ensure they have the manufacturing processes in place to build trailers in accordance with these standards.
Through the CVP, it is the mission of NATM to educate member manufacturers on those requirements set forth by governing bodies. With this free flow of information and open lines of communication, NATM members are provided with access to resources and information that can often be time-consuming and difficult to compile on their own.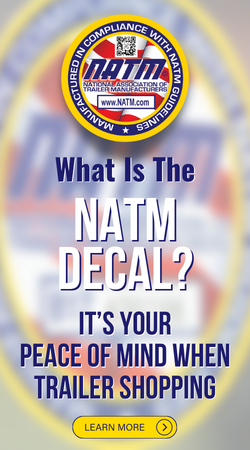 The consumer warning further cautioned trailer purchasers to, "Please be aware that trailers must comply with Federal standards to ensure that they are equipped with appropriate critical safety components, such as lighting, tires and wheels … use caution when shopping for these trailers, especially if you are considering online listings for trailers that must be imported into the United States."
As a consumer, it is nearly impossible to fully understand the hundreds of safety-related regulations NHTSA refers to in its statement. NATM has made it easier for consumers by creating the NATM Decal. Trailers featuring this decal are built by manufacturers who have verified compliance through NATM's CVP. Participation in this program is MANDATORY for all NATM trailer manufacturing members and only NATM members who have successfully completed the CVP are allowed to place NATM Decals on their trailers. To learn more about the program, click here.
Consumers interested in purchasing from a NATM-compliant manufacturer can visit our Online Trailer Manufacturer Directory to find a local manufacturer.