CVP Consultation Takes Place At NATM Headquarters
It may be surprising, but it is not often there are trailers at NATM in Topeka, Kansas. However, on May 8, a warm, sunny Monday evening, a Compliance Verification Program (CVP) Consult was taking place for new Association member Trackabout Offroad Campers in the headquarters parking lot. A first Technical Director Scott Crimmins says he's aware of at least in his five years with the Association.
What normally would have been a remote consult turned out to be surprisingly able to take place in person considering the new member, Trackabout Offroad Campers, is based in Australia. Tim Muller, owner of overlandaus.com and the exclusive dealer for Trackabout Offroad Campers in North America, drove the trailer up from a convention in Fort Worth, Texas, on his way home in Washington state.
"(Muller) said, 'I'm in Dallas and can pass through Topeka on my way home,' so I jumped at the chance," Crimmins said.
Trackabout Offroad Campers makes off-road campers and prides itself on being Australia-made and tested in the outback. The trailer brought on-site was a Category 1, the smallest of four trailer categories NATM certifies. To be included as a Category 1, the trailer must be under 80 inches wide and rated 10,000 lbs or under GVWR.
The initial part of the consult is the physical inspection of the trailer. Muller says he wasn't sure what to expect, but the trailer had everything Crimmins was looking for.
"I learned a lot. It's just a factor just trying to adjust from Australian requirements to the U.S. requirements," Muller said. " It's important for us to get that right so going through NATM is easy, and I can be sure that our customers are comfortable that there is full compliance with the U.S. regulations."
NATM Consultants do a full walk-around of trailers from front to back. Crimmins says the big things they are looking at are the couplers, tires, rims, that safety chains are a sufficient capacity for the GAWR/GVWR, and making sure all required lighting is in the proper locations along with necessary reflectors.
These inspections are to ensure that the components, such as the chains, couplers, tires, and rims, that are used are adequate capacity for the weight of the trailer plus its' cargo capacity to maintain safety. Crimmins says Trackabout Offroad Campers trailer met all those requirements.
"The consult went fantastic. Obviously, Scott here is great. He comes on out when we're here on site. He knows a lot," Muller said. "It was a quick half an hour, and I think the consultation went smooth. He told us about a few things that we need to adjust slightly for the shipment of the trailers for the future trucks about to come into North America, and I think the consultation went great. It seems like we're on our way to a positive outcome."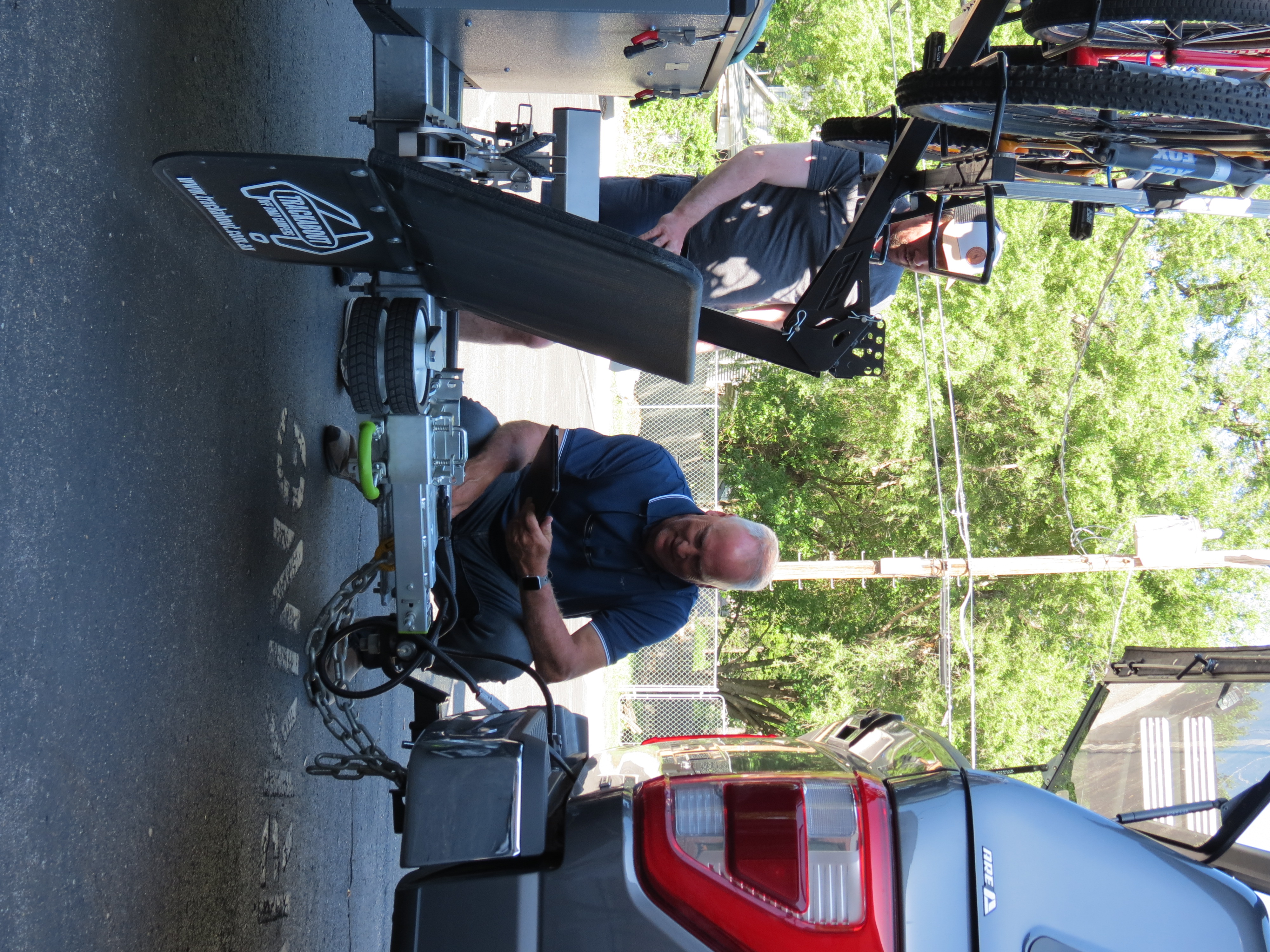 The next part, arguably the less exciting part, involves paperwork and record keeping. In this instance, Crimmins and Muller set up inside headquarters to meet with Trackabout's owner, Ian Rogers, over Zoom.
Flexibility, Crimmins says, is the key when consultants have to work with company owners in different time zones. Consultants primarily performed Zoom consults during COVID, and they still routinely do when scheduling conflicts or distance requires them to do so.
Here is where documentation such as the NHTSA 566 and 565 and tire record keeping are discussed and checked over. Crimmins says these are frequently things new Association companies miss.
"First-timers rarely know about the tire record-keeping requirements," Crimmins said. "They have to have a reliable method to track the tire identification number (TIN) to the VIN on the trailer they're installed on in case of a tire recall. It's a pretty big hurdle for a larger volume manufacturer."
After this portion, corrections are issued, if there are any required. Corrections are processed once companies send them in, this usually consists of simply emailing or texting in updated photos or documents to their consultant, and their compliant status in the NATM CVP can be made official.
Learn more about NATM new member Trackabout Offroad Campers at www.trackabout.com.au. To learn more about NATM's Compliance Verification program visit www.NATM.com/CVP.