2022 NATM Convention & Trade Show Update
Booth Sales
NATM's booth sales continue as the industry looks forward to the 2022 show! Booth selection for the 2022 Convention & Trade Show began on June first. On July 6th, companies that chose to roll their 2021 booth funds over to 2022 begun to select their new booth locations. Starting August 4th, the general membership will be allowed to choose booth space.
Exhibiting at NATM's Convention & Trade Show is affordable, with the cost per 10' x 10' booth at $1,457 for NATM members and $2,914 for non-members. Exhibitors can choose to carpet their booth or request electricity through Freeman this Fall. If you would like to purchase a booth, contact NATM Assistant Director Meghan Ryan at Meghan.Ryan@natm.com or call (785) 272-4433.


Registration
Registration will open Sept. 13 online. All exhibiting suppliers must register their booth workers online at NATM.com. Each exhibiting company receives two complimentary booth workers per 10' x 10' booth purchased. Additional booth workers can be registered for the Early Bird rate of $75. This price increases by $50 per person when registering after Jan. 30, 2022.


Sponsorships
Think outside the booth! Sponsorships are still available for the Annual Convention & Trade Show. The success of the NATM Convention is directly tied to the support of its generous sponsors. There are marketing and general sponsorship opportunities available from $250 to $50,000 to fit any budget, including networking receptions, the Top Golf Tee-Off event, trade show lounges and more! Being a sponsor allows your company early access to booth selection for the 2022 show and provides a wide range of exposure, both electronically on NATM's website and mobile app, as well as in print on the convention program map and in Tracks magazine. This name-recognition will help drive customers to your booth. NATM will work with you to find the sponsorship opportunity best fit to get your company's name in front of industry decision-makers.


Hotel Reservations
For 2022, the NATM host hotels are the Tampa Marriott Waterside Hotel & Marina and the Embassy Suites by Hilton Tampa Downtown Convention Center
Tampa Marriott Waterside Hotel: The Tampa Marriott is conveniently located directly across the street from the Tampa Convention Center. NATM has negotiated a room block rate of $289/night.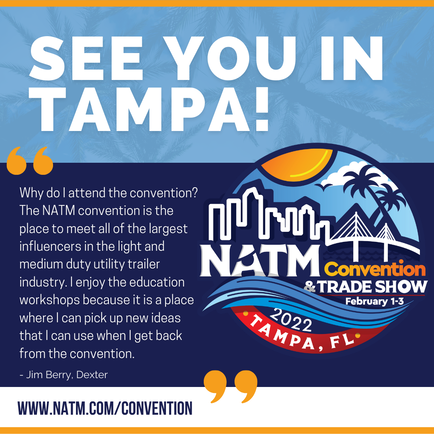 Hotel Address: 700 S Florida Ave, Tampa Fl 33602
Phone Number: (813) 221-4900
Embassy Suites by Hilton Downtown Convention Center: The Embassy Suites is conveniently located directly across the street from the Tampa Convention Center with a second level walkway directly to the convention center. NATM has negotiated a room block rate of $279/night.
Hotel Address: 513 South Florida Avenue Tampa, Florida 33602
Phone Number: 813-769-8301
Arrgh! Scammers Ahoy!
Unauthorized third parties have begun contacting NATM.


Members about hotel reservations for NATM's Convention & Trade Show.
NATM advises that you do not engage or make reservations with any third-party group!

Trailer Manufacturers & Dealers:
Take Advantage of New Attendee Promo
NATM trailer manufacturers and dealer affiliates who have never attended the NATM Convention, or who have not attended in the last five years, are eligible for two complimentary full registrations and two complimentary hotel room nights (while available) as part of the New Attendee Promotion. Full registrations include access to all events and meals (except Top Golf Tee-Off) outlined in the show calendar. This is an affordable opportunity for trailer manufacturers to receive top-notch education, networking, and develop supplier relationships while in Tampa. NATM is excited to once again offer free full registrations for trailer manufacturers' spouses. NATM hopes you will plan to bring your other half along to enjoy the show!
​