Day in the Life of an NATM Compliance Consultant
Date posted
April 28, 2021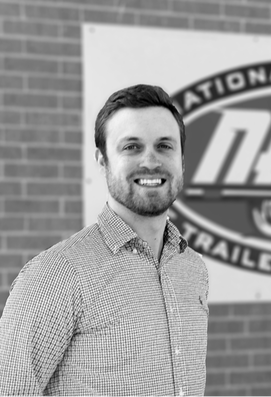 In the past year, NATM has implemented several changes to the Compliance Verification Program (CVP) due to the Association's continual effort to improve, while also protecting the health and safety of members and staff in the wake of COVID-19. These changes, combined with the vast diversity in our membership in types of trailers produced and geography, make it an interesting career as we assist members with their compliance requirements across the country. NATM currently has two compliance consultants on staff who regularly conduct compliance consultations, and as Technical Director, I complete a small number of consultations each year.
Pre-COVID-19, the average week looked much different for consultants than it does today. They would fly to a region and
conduct the entire consultation process onsite. This process would typically take around three days and would include anywhere from a handful to a dozen consultations. At present, due to safety precautions, consultants avoid air travel whenever possible to minimize possible exposure to the virus. Further, NATM has separated consultations into two parts, the onsite trailer inspection and the remote documentation/informational portion rather than conducting the entire consultation onsite to reduce possible exposure to virus both for our members and consultants. This means the amount of time onsite has also been minimized, and thus more consultations can be conducted within the same time frame.
The concentration of members varies wildly across the United States. Certain parts have a cluster of members such as Elkhart, Ind. or northeast Texas while other parts of the country have very few member facilities like areas in Nevada or Wyoming. In early March, I travelled to Elkhart and I was able to conduct 21 trailer inspections within two and half days. On the other hand, I have also travelled thousands of miles in many more days only to be able to conduct a fraction of the inspections completed in Elkhart.
When determining the length of consultations, the type of trailer involved is yet another factor. Inspecting a utility trailer that is 79 inches wide and has a GVWR of 2,990 lbs. can be fully inspected in less than a few minutes, while a horse trailer or car hauler with a GVWR over 10,000 lbs. will take significantly more time. This drastic change in inspection time is due to the number of relevant items on the CVP checklist that need to be accounted for, such as clearance lamps. The small utility trailer will not require them but the horse trailer will. Conspicuity treatment (DOT tape) is another example; a car hauler is required to have the tape while the small utility trailer is not. If the consultant is inspecting a boat trailer, the hand winch must also be inspected. Each of these checklist items will add to a compliance consultation's length.
Additionally, new members and re-certifying members usually have differing consultation lengths. Re-certifying members' consultations typically flow smoother and conclude quicker than new member consultations. This difference in length is expected. A new member will usually have more questions or need more clarification as they have not been through the process. The plethora of regulations governing trailer construction are complicated, so it is unusual for a new member to have all of their trailers align with regulations the first time around. In addition, just over half of recertifying members pass their consultation outright; though, these members are generally familiar enough with the regulations that explanations do not take as long.
I can't speak for the other two compliance consultants, Scott Crimmins and Sean Sloan, but I am a talker—guilty as charged. If a member is unable to accompany me during the trailer inspection, I can move quickly through the process, but if I'm conducting a consultation where the member is present and that member is also a talker, I could be on-site for considerably longer. Favorite college football teams (Kansas State), my or the member's children (I have three boys and always have a story), outdoor vacation spots (Glacier National Park or Yosemite), and many more topics have been discussed during consultations.
More serious topics of conversations include the workforce shortage or component availability. These discussions help me better understand that particular member and the trailer industry as a whole. If I receive the same questions or concerns over and over again or notice other trends from consultations, then I know our members would benefit from further education on said topics. These topics often result in webinars, forums, Tracks articles, or any other form of communication we think would best disseminate the information.
Although the structure of the day is pretty straight forward, the times can vary wildly. While many manufacturing operations begin well before 8:00 a.m., some do not. With this in mind, we typically start our day with the first consultation at 8:00 a.m., followed by as many consultations as we can fit within the day while still allowing ample time for the consultations themselves, driving between member locations, and time for lunch. With many operations starting before 8:00 a.m., often times offices will close before 5:00 p.m. which limits how late into the day we can conduct consultations. Usually, consultations begin no later than 3:30 p.m. Deceivingly, this sounds like an early day, but I usually eat lunch in my car driving between member facilities, and at the end of the day, I can either be five minutes from the hotel or five hours. I've gotten to the hotel as early as 2:00 p.m. or as late as 2:00 a.m. The rare early days are much preferred as they allow me to input reports, answer member questions, and catch up on email, rather than an overloaded workday once I return.
Speaking of hotels, we all have our favorite companies to use while traveling. The NATM Board is fantastic in allowing consultants to plan and schedule their own travel as long as it is cost conscious. While each consultant differs, my favorites include Southwest Airlines, Hertz or Dollar Rentals, and Holiday Inn Express. When it comes to food, I'm famous around the office for eating McDonalds or pizza multiple times a day and certainly multiple times per trip! For example, I had pizza five times in three days on my recent trip to Elkhart, Ind. Food options have been limited as we attempt to avoid any unnecessary potential exposure to COVID-19; we often use drive-thru or delivery options.
Having great conversations and seeing this wonderful country is fun and exciting, but our purpose is to support our members. This is the driving force behind all of our processes and recent changes, and why we gladly accept repetitive, subpar food or time away from our families. We are constantly putting effort into molding our program, travel-related and not, to reach the Association's goal of an extremely high level of member support.
For more information or questions on NATM's Compliance Verification Program, contact NATM Technical Director Terry Jones at Terry.Jones@natm.com