Where In The World Is The NATM Compliance Decal?
Date posted
September 28, 2020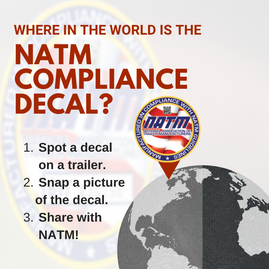 Verifying compliance with federal regulations and industry best practices is no small feat. NATM member trailer manufacturers' commitment to safety deserves public recognition. While NATM continues to market the value of the compliance decal in a number of different ways, we would love to know: where in the world is your compliant trailer?

NATM is looking to collect photos of trailers with the NATM decal in your everyday life – sitting at a job site, hauling a boat to the lake, at the campground, or wherever it may be! The "Where in the World is Your Compliant Trailer" social media campaign posts will have the manufacturer of the trailer tagged, a photo of the trailer being featured, as well as a direct link to the member's directory listing on NATM.com.

Photos and a brief description of where the picture was taken can be submitted to decals@natm.com.

Recognize NATM members that help America work and play safely by submitting a "Where in the World is Your Compliant Trailer" post today!