2020 Membership Dues – Reminder
Date posted
February 21, 2020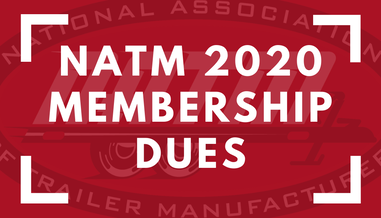 As of January 31, 2020, all unpaid NATM memberships are considered past due. Any dues not yet received are considered delinquent and all membership benefits have been terminated until paid per the NATM Bylaws.

Membership renewals for 2020 have been mailed, and the main contact for your company has received several email notices as well. If you would like to confirm who your main contact is, please contact NATM Membership & Events Director Kelli Maydew or call NATM at (785) 272-4433. You can also log into the Members Only portal of www.NATM.com and select the "Update Your Contact Information" link to make edits instantly to this information.

In addition to paying your membership dues by check or over the phone by credit card, you are also able to pay online using the Members Only portal at www.NATM.com. Once you are logged in using your company's login credentials, select "Pay My Bills." If you need your credentials, or have any questions during this process, please contact NATM Membership & Events Director Kelli Maydew.

NATM is committed to improving the compliance verification program, delivering safety education and information, increasing consumer awareness about the importance of buying compliant trailers, providing opportunities for member input, and continuing to develop relationships with key decision makers on Capitol Hill and in federal agencies to advocate for industry needs.

NATM, the Board of Directors, committees, and staff are working diligently to provide more value to members, and we look forward to working with you in 2020. We sincerely hope that you will allow us to continue to serve your needs and provide value to your organization.
​
If you are unsure if your company's dues have been paid, please contact Kelli Maydew at kelli.maydew@natm.com.