Save the Date for the 2022 Convention & Trade Show
Date posted
April 28, 2021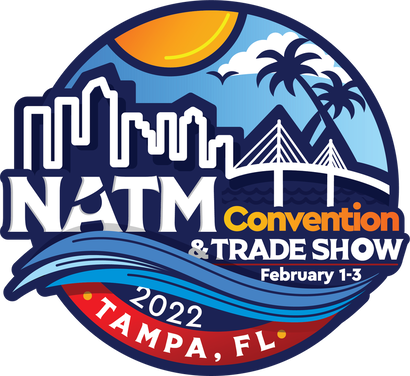 NATM is looking forward to hosting its 2022 Convention & Trade Show for the first time at the Tampa Convention Center in Tampa, Fla. Feb. 1-3, 2022. Florida continues to be a popular location for NATM's Convention & Trade Show as it boasts sunny weather, great sites for dinners with customers, golf outings, shopping, and family-friendly vacation activities.
​
The Tampa Convention Center is located along the Riverwalk in the heart of downtown and will serve as the site of educational workshops, networking events, and the trade show. Attendees of the show can access the NATM special room block rates at the Embassy Suites by Hilton Tampa Downtown Convention Center and the Marriott Tampa Waterside. More information will be provided via email. To sign up for the Convention & Trade Show emails, visit www.NATM.com/events.


Sponsorships
As always, the NATM Convention & Trade Show would not be possible without the support of its generous sponsors. There are sponsorship opportunities available from $250 to $50,000 to fit any budget. Being a sponsor allows you to select your booth before previous exhibitors and the general membership, as well as provides a wide range of exposure, both electronically on NATM's website and mobile app and in print on the convention program map and branded events. This creates name recognition which helps drive customers to your booth. Re-enter in-person events with a bang, and sponsor today! Watch your email for sponsorship information coming in May.


New Attendee Promotion
Are you a new member trailer manufacturer? Are you a trailer manufacturer whose company has not attended in the last five years? Are you a dealer affiliate? You may qualify for NATM's New Attendee Promotion!
The New Attendee Promotion includes two complimentary full registrations and up to two complimentary hotel room nights at the host hotel for the convention. Those interested in participating should contact NATM Assistant Director Meghan Ryan soon—complimentary hotel rooms are on a first come, first served basis and will go fast.
​
Stay tuned for the show additions and for more information about NATM's 2022 Convention & Trade Show. Questions about the show sponsorship opportunities or exhibit space? Contact Meghan Ryan at Meghan.Ryan@natm.com or call (785) 272-4433.
Booth Selection Process for the 2022 Show
Booth Selection will open exclusively to select 2020 sponsors on June 1 lasting through June 29. Those companies that chose to roll their booth over from the cancelled 2021 show will be able to select a new booth on July 6. The general membership will be allowed to choose booth space beginning Aug. 4, and non-members can select booths starting Aug. 18.
Exhibitors that chose to roll their 2021 booth over to 2022 will keep their discounted price and automatically have their funds applied directly to their 2022 booth. Unless rolling over 2021 booths to 2022, the cost is $1,457 per 10 ft. x 10 ft. booth. Booth space for non-member companies is $2,914.
On the day your booth-selection window opens, you will receive an email from NATM notifying you that the booth sales application is now available online for your company. This email includes a unique booking code that, when entered, pre-populates the online booth sales application. Within the application, exhibitors can view the 2022 show floorplan and select their desired booth(s) in real time.
During the completion of the online application, exhibitors pay for their booth(s) online via credit card. Once NATM show management approves the application, an email containing login credentials to the exhibitor dashboard is sent. The dashboard allows exhibitors to update their company profile and contact information and view other important information relevant to the upcoming show.
As always, sign up at any time after your group's window begins. If you miss the window for your group you can still purchase a booth, but the privilege of choosing your booth space before it opens up to new groups is lost. Be sure to mark your calendar to sign up as soon as you receive your email from NATM!

2022 Booth Selection Timeline:
The opportunity to select exhibitor space at the 2022 trade show has been made available to suppliers and service providers in the following phases:
Phase 1: 2020 sponsors will choose their booths first in the order of their sponsorship levels during the following dates:
$30,000 and higher—June 1-3
$10,000–$29,999—June 4-8
$7,500–$9,999—June 9-11
$5,500–$7,499—June 14-16
$2,500–$5,499—June 17-21
$1,000–$2,499—June 22-24
$500–$999—June 25-29
Phase 2: Companies that chose to roll their 2021 booth funds over to 2022 will select their booths beginning July 6, 2021.
Phase 3: The general membership will be allowed to choose booth space beginning Aug. 4, 2021.
Phase 4: Non-members will be allowed to select booths beginning Aug. 18, 2021.
If you have any questions regarding how to book your exhibit space or if you would like to be a sponsor at the 2022 Convention & Trade Show, contact NATM Assistant Director Meghan Ryan at Meghan.Ryan@natm.com or call (785) 272-4433.
For answers to the most frequently asked questions, click here for the FAQ sheet.