Tampa to Host 2022 Convention & Trade Show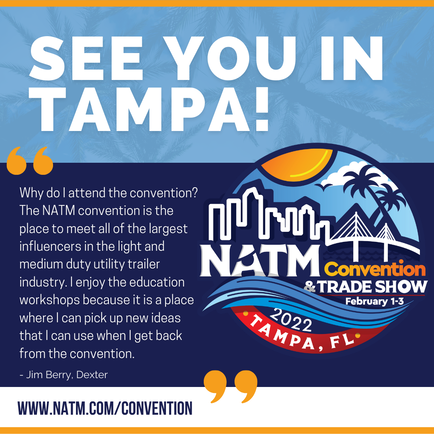 Supply chain disruptions, material and component availability, and workforce shortages have caused the light- and medium duty trailer industry continued headaches. NATM recognizes the challenges and is curating the 2022 Convention & Trade Show to assist its industry's success. The NATM Convention & Trade Show is the perfect one-stop-shop for trailer manufacturers and dealers to meet with suppliers and service providers as they exhibit on the trade show floor.
​Looking for a new chain supplier? Interested in checking out new light options? Shopping around for new software to make life easier? If so, plan to walk the trade show floor and meet directly with suppliers and service providers in the industry! Educational events relevant to both suppliers and trailer manufacturers alike will be featured, including government affairs updates, a trade/tariff workshop , and information about addressing the workforce shortage. Stay tuned to www.NATM.com and the NATM Insider for updates about workshop topics.
Host Location
The 2022 Convention & Trade Show is headed to the Tampa Convention Center in Tampa, Fla. Feb. 1-3, 2022. Florida continues to be a popular location for NATM's Convention & Trade Show as it boasts sunny weather and great sites for dinners with customers, golf outings, shopping, and family-friendly vacation activities, but this will be the first time that Tampa has been the host location for NATM's event.
The Tampa Convention Center is located along the Riverwalk in the heart of downtown and will serve as the site of educational workshops, networking events, and the trade show. Attendees of the show can access the NATM special room block rates at the Embassy Suites by Hilton Tampa Downtown Convention Center and the Marriott Tampa Waterside. More information will be provided via the NATM Insider newsletter and email. To sign up for the NATM Insider, contact NATM Marketing Director Savana Morrison at Savana.Morrison@natm.com.
Booth Selection
Trade show space opened to the 2020 Sponsors starting June 1. Following sponsors, companies that chose to roll their 2021 booth funds over to 2022 began to select their spaces July 6. The opportunity to select space for the general membership will begin Aug. 4, and non-members can select booths starting Aug. 18.
Sponsorships
As always, the NATM Convention & Trade Show would not be possible without the support of its generous sponsors. There are sponsorship opportunities available from $500 to $50,000 to fit any budget. Being a sponsor allows you to select your booth before previous exhibitors and the general membership, as well as provides a wide range of exposure, both electronically on NATM's website and mobile app and in print on the convention program map and branded events. This creates name recognition which helps drive customers to your booth. Watch your email for sponsorship information coming in May.
New Attendee Promotion
Are you a new member trailer manufacturer? Are you a trailer manufacturer whose company has not attended in the last five years? Are you a Trailer Dealer Affiliate? You may qualify for NATM's New Attendee Promotion! The New Attendee Promotion includes two complimentary full registrations and up to two complimentary hotel room nights at the host hotel for the convention. Those interested in participating should contact NATM Assistant Director Meghan Ryan soon— complimentary hotel rooms are on a first-come, first-served basis and will go fast.
Stay tuned for more information about NATM's 2022 Convention & Trade Show at www.NATM.com. Questions about the show sponsorship opportunities or exhibit space? Contact Meghan Ryan at Meghan.Ryan@natm.com or call (785) 272-4433.